Maru Sling Baby Carrier - Jacquard Red
A sling made of intricately woven fabric.

The MARU SLING-Jacquard is a sling made of very cool woven cotton fabric in jacquard.
Jacquard is a type of material with an intricately woven pattern; the pattern is not embroidered but woven directly into the fabric.

It is one of the ideal materials for babies; it is a versatile, comfortable, and relaxed fabric for the summer, made of cotton in jacquard.
The fabric becomes soft and comfortable for you and your baby with each wash.
Carrying the baby from 3.5 kg for long periods or short periods to children up to 15 kg is recommended.

This design is a minimalist pattern, like Japanese illustrations, but innovatively designed in Spain.

It shows positive vibes, power, inner strength and confidence, determination, as well as grandeur and richness.
Material: 245 gsm, 100% jacquard cotton
Ring: aluminium alloy.
Length: 1.85m
Colour: Wine red

Advantage:
The Ring Sling is a quick, easy-to-use and lightweight babywearing option. Its great advantage is the fact that you do not have to wrap it. The only thing you have to do is to pull the fabric correctly through the rings, put the baby in and tighten it (according to the instructions).
They are perfectly adaptable to both hot days and the coldest and, because they are enjoyable from the very first time, we strongly recommend them for beginner parents.
Features:
Comfortable: The Maru sling is spread evenly over your shoulder and is held firmly in place.
Maintains the ideal orthopaedic position for the baby's spine in a C-curve position.
Maintains the ideal orthopaedic position of the baby's legs in an M-shaped position.
Easy and safe adjustment: The secure aluminium rings have a resistance of more than 300 kg.
Quality Material: Soft and supportive fabric, made of cotton in jacquard. With each wash, the fabric becomes softer and more comfortable for you and your baby.
Breastfeeding Friendly: You can also breastfeed your baby with the tail material, which can be used for discreet breastfeeding.
Can carry a child from about 3.5 kg to 15 kg (from 10 days to about 3 years old).
Fast carry without having to knot, thanks to 2 rings. It fits in the blink of an eye.
One size fits all: it is suitable for almost all body types and will be comfortable for all wearers (up to 1.90m in height and 120cm around the chest).
It allows multiple carrying positions: front carry and side carry.
It comes with a user manual.
MARU SLING meets safety requirements. The safety test was carried out by a certified laboratory in France and complies with tests and examinations for soft carriers.

Maintenance tips :
Hand wash is recommended.
Machine washable at 40°C (delicate cycle, separate washing in a net).
Use a mild detergent.
Dry in the shade.
Do not use bleach or fabric softener.
Do not use the dryer or iron.


Instruction Manual:
Sizing: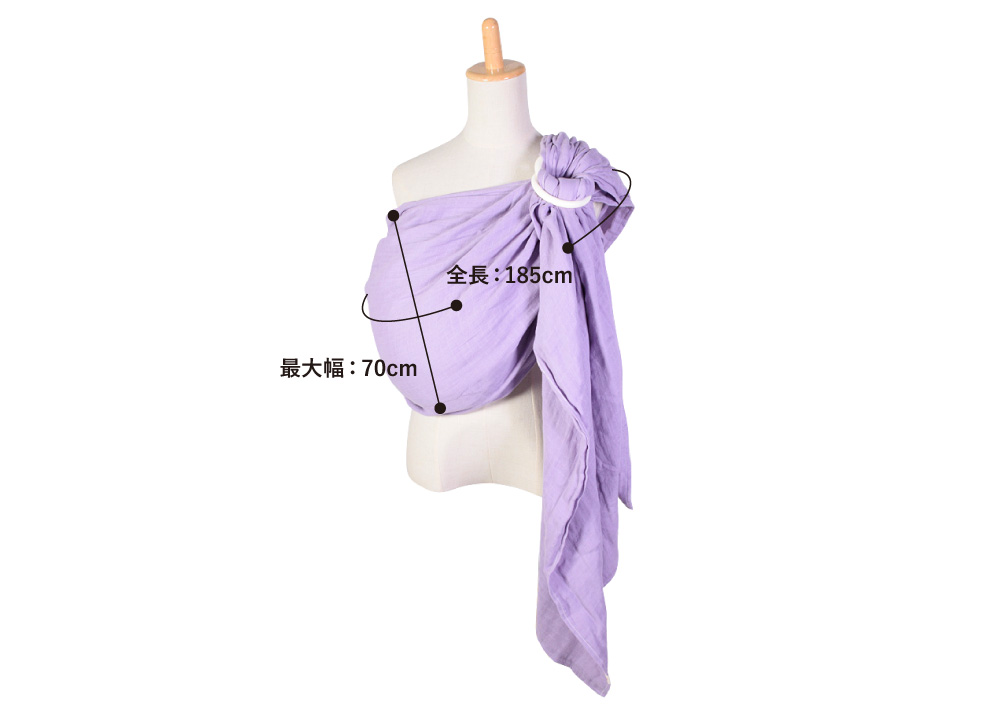 #marusling #jacquard #red #babycarrier #ringsling #babysling #babyshop #whizurlshop #authoriseddealer #authentic #original #madeinjapan #luckyjapan