Babyhood Valencia Rocking Chair - Charcoal Grey
The most luxuriously stylish feeding chair for your home, that will gently rock you and your baby for many blissful moments together.
Features:
Luxurious fully upholstered chair with a gentle rocking motion
Interchangeable base with either strong beechwood rocking blades or fixed cone legs, whichever suits your growing family
Rockstar metal accents
Stylish wingback silhouette
Optional ottoman and plush lumbar support pillow
Easy-to-clean durable fabric
Available in Greystone & Charcoal Grey
Specifications:
Chair – height – 104cm, width – 72cm, depth – 90cm
Ottoman – height – 46cm, width – 48cm, depth – 41cm
Carton measurement: W73 x L89 x H84cm
Fabric type: Premium Woven Textiles
Weight limit: Up to 120kg
Product care:
Do not remove cover.
All spills must be promptly cleaned.
Spot clean with mild upholstery shampoo.
Do not saturate with liquid.
Test shampoo in an inconspicuous area, before use to avoid colour run or damage.
Do not use coloured cloth or anything abrasive.
Do not dry clean.
For further information see your product packaging.
Highlights:
Luxuriously Stylish
Fully upholstered with premium woven textiles that are easy to clean.
Rock or Hold Steady
Two base options: strong beechwood rocking blades or fixed cone legs, which are perfect when your baby starts to crawl.
High Wingback Silhouette For Your Support
Not only stylish but comfortable with extra lumber and neck support for you during feeding.
Rock Safely
A wide European beechwood rocking blade that ensures a smooth gentle rock for you, with no tipping over.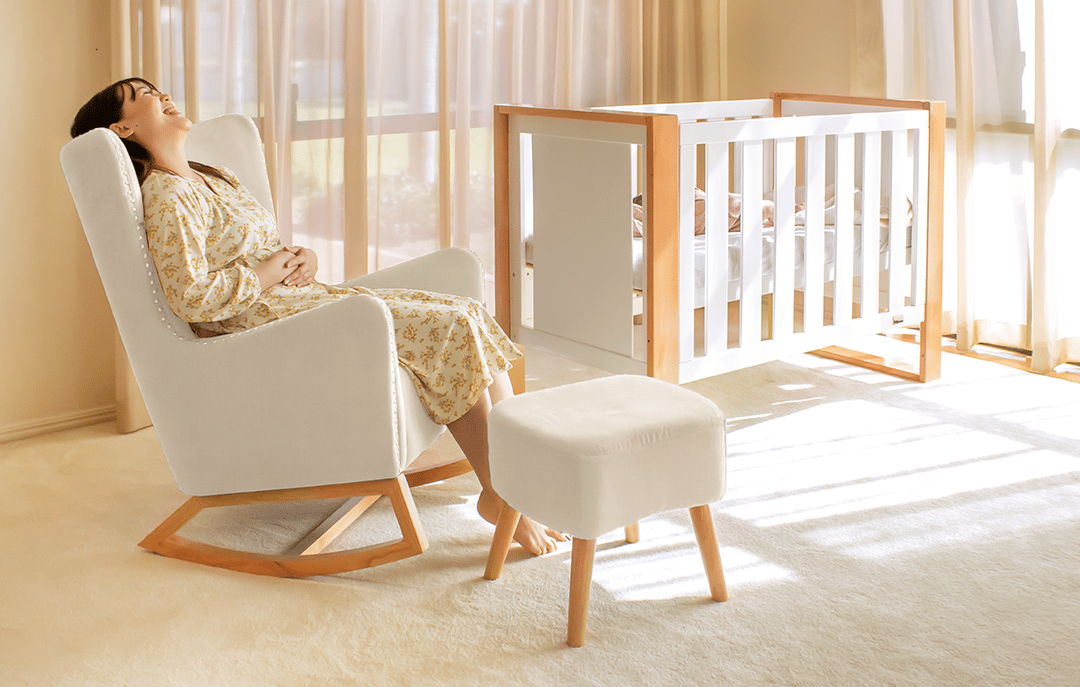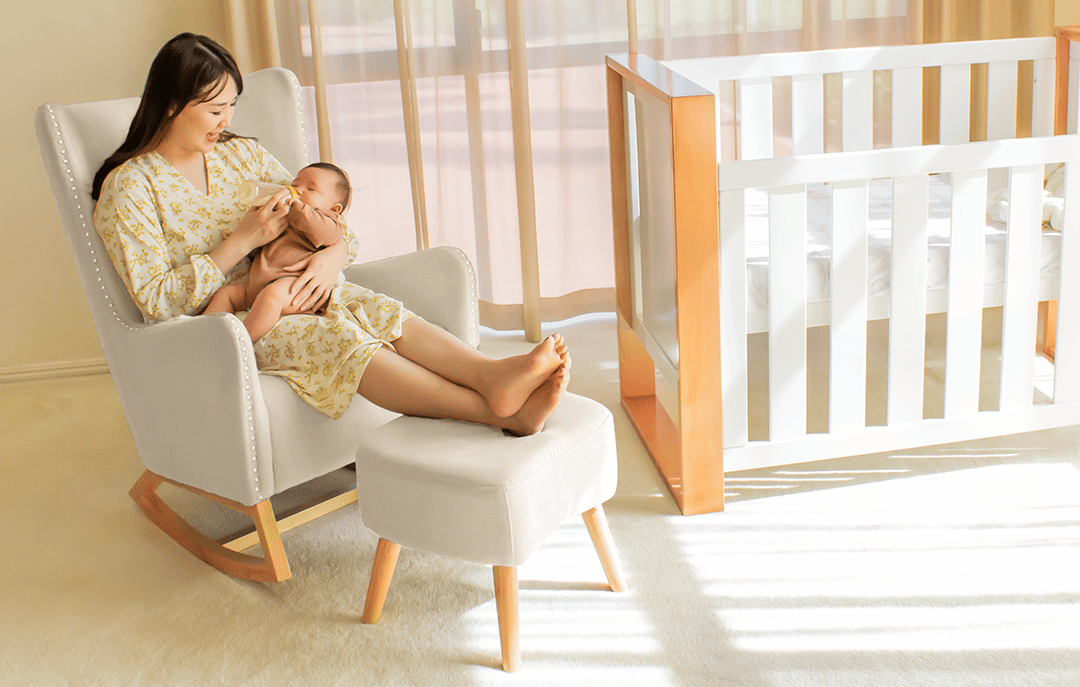 Transform any corner of your home into the ultimate escape for you and your baby, with the babyhood Valencia Rocking Chair. A trendy take on a classic wingback silhouette, the Valencia Rocking Chair boasts rockstar accents like metal studs, well-padded seat cushion, sleek arms, a curvaceous backrest, and luxurious cushions with beechwood base accents.
Thoughtfully designed to meet all your baby's feeding time needs and then transition to other parts of your home in years to come. Designed with a high back for head and neck support and a super cool wingback for extra side support.
The Valencia seat sits above interchangeable bases with beechwood rocking blades or 4 beechwood fixed cone legs – you choose if you want to rock or not as your family grows.
As comfortable as it is beautiful, it rocks gently, so you can feed, calm, or bond with your baby in total comfort and style.
Complimented by an upholstered ottoman with beechwood accents, to rest your tired legs and a matching lumbar pillow, to offer even more back support when you need it.
No more bulky old fashioned rocking chairs or flimsy metal chairs with poles pocking through the cushions, now you have a wide range of options in babyhood's Feeding Chairs. All our chairs are designed to offer optimal support to your body whilst feeding baby every 2-4 hours each day – without ever comprising on a style for your home.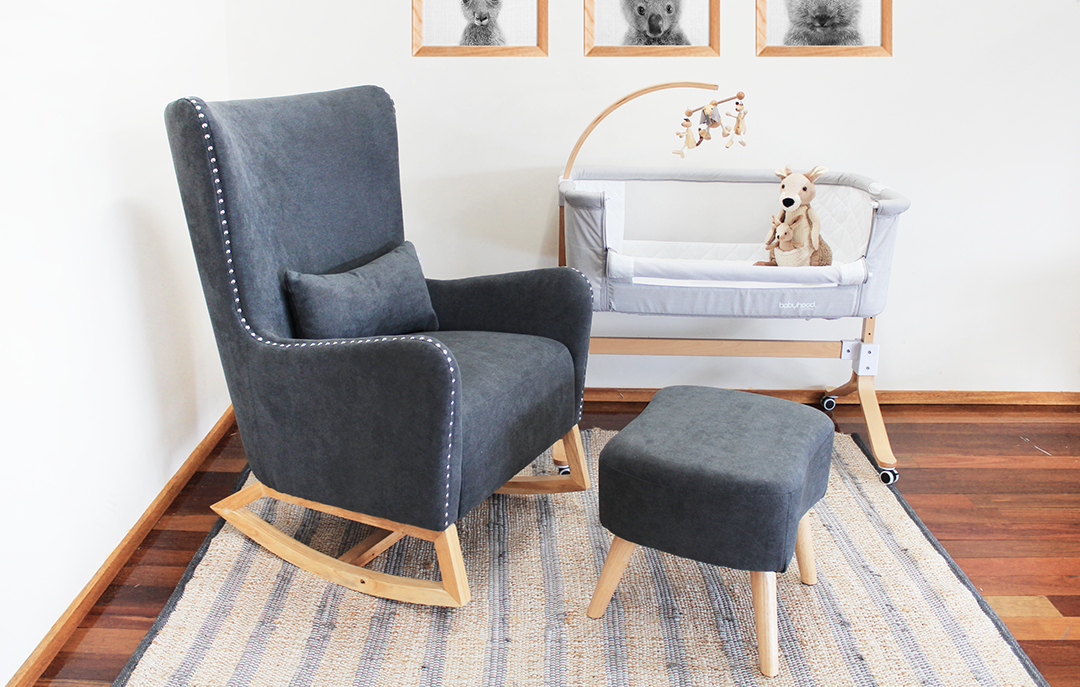 #whizurlshop #valenciaglider #valenciarockingchair #rockingchair #malaysiaseller #authorisedreseller #babyhoodglider #babyhoodrockingchair #nursingchair #breastfeedingchair #readystock #localseller