Amani Bebe Bamboo Muslin Wrap 2-pc Set - Tic Tac Toe
A luxurious and extra soft bamboo muslin perfect for swaddling and wrapping your baby in accordance with the safe sleep guidelines. These Bamboo Muslins are conveniently packed in a 2 pack.
Features:
Bamboo fabric
Generous size so it is ideal for swaddling and wrapping – 120cm x 120cm
Breathable with finely woven open-weave organic cotton textile so you know your baby is safe while sleeping
Beautifully soft to touch luxurious textile
Durable fabric
Machine washable in a cold gentle wash
Available in Tic Tac Toe
Bamboo
It is gentle on sensitive skin and better for bubs with eczema and it is more absorbent than cotton, providing a drier feel even after an accident as it wicks moisture away from baby
Breath Baby, Breathe
The finely woven open-weave bamboo fabric provides your baby with a secure, safe and breathable environment to sleep.
Luxurious For Your Precious Little Baby
Unlike other bamboo wraps, we make them softer so they are comfortable and safe for your baby's delicate skin
Generous Size
So it is ideal for swaddling and wrapping
Safer For Baby
Lightweight fabric that is thermoregulating
Wrap or swaddle your precious baby in the most premium of muslins, with our Bamboo Muslin. This soft and luxurious muslin is a finely-woven fabric which allows airflow and breathability. It has an open weave making it durable but lightweight so the perfect cover for our climate. This helps to reduce the risk of overheating as it is thermo regulating, therefore minimising the risk of SIDS.
The bamboo fabric is soft and gentle on your baby's delicate skin. It is also hypo-allergenic so it is especially gentle for those bubs with sensitive skin or eczema. Bamboo is sustainable as it is a fast growing plant and is eco-friendly as it does not require an abundance of water to grow. It is also biodegradable so it gives you peace of mind that you are gentle with your footsteps on our earth.
The perfect muslin to wrap your baby in accordance with the safe sleeping guidelines, as it is generous in size and easily able to be tugged under your baby's mattress.
Watch how the sleep experts recommend you prepare your baby for sleep time using our beautiful muslins: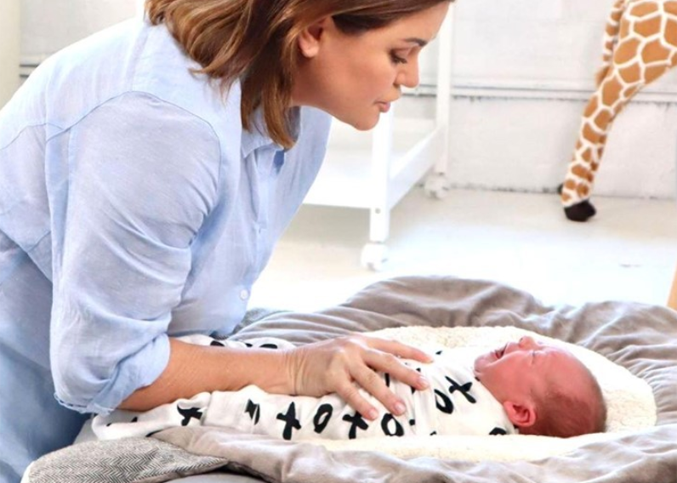 #whizurlshop #muslinwrap #babywrap #babyswaddle #amanibebe #tictactoe #babyblanket #bamboowrap #bambooswaddle